56TH ANNUAL SCIENTIFIC MEETING
8 Giugno 2022

-

10 Giugno 2022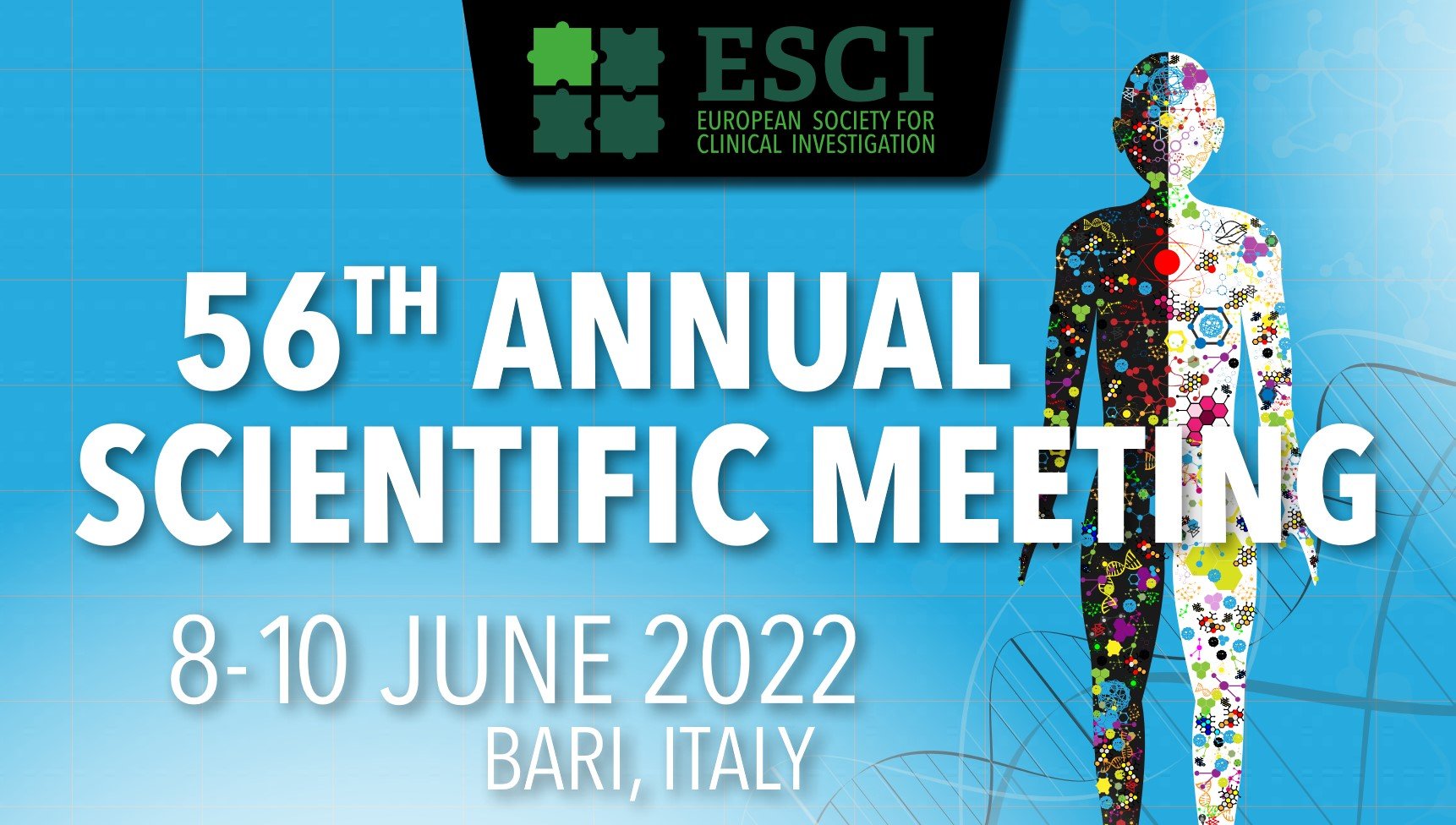 Dear Friends, Colleagues and ESCI members,
Because of pandemia, we totally changed our behaviors and learned how to interacted with each other by using technology in Scientific and personal communication. We got new ideas as researchers while on worldwide lockdown. We now see now the light at the end of the tunnel and, on behalf of the European Society for Clinical Investigation (ESCI), I warmly invite you to attend the 54th Annual Scientific Meeting, to be held in Bari, Italy, June 8-10, 2022. This will be the second time that the conference will take place in Bari, a city with an important University campus. Bari has thousands of years of history, overlooking the Adriatic Sea in the Apulia Region, the beating heart of the Mediterranean Europe with superb people, culture, heritage, and food.
From the past years, ESCI has been committed to update our knowledge, to share expertise by merging clinicians and basic researchers across Europe, working in the multidisciplinary field of biomedical research. No matter how bad the situation has been, we are coming back stronger in the post-COVID era, with great responsibility.
The congress will focus on "BRIDGING GAPS BETWEEN AGING, TRANSLATIONAL, AND TRANSITIONAL RESEARCH" hosting top speakers, sound research groups, merging basic, translational and clinical research, organizing symposia and pre-meeting courses, oral presentations and poster sessions. Going back "to the future" allowing hundreds of young investigators to meet, discuss, challenge each other, and share novel experiences in a beautiful environment.
I am sure you will consider being part of this large international scientific community by active participation, promoting new ideas and collaborations. ESCI will continue to support, encourage excellent, honest, highly innovative and sound clinical science through collaborations and mobility of young investigators across Europe and worldwide.
I look forward to seeing you in a splendid location, Bari 2022 – ESCI is waiting for you!
Piero Portincasa
Local organizer
Past-President ESCI
President Trust, ESCI